The company aims to minimize harmful impact on the environment at all production stages.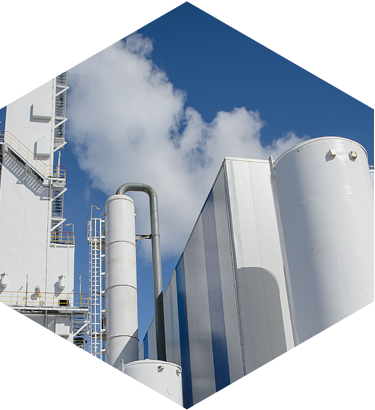 Bashkir Soda Company implements innovative technologies for control, utilization, processing and burial of wastes on its production sites, seeks to use the best know-hows in field of environment protection and industrial safety.
The most significant projects implemented in the last years
Implementation of the program "Provision of safe maintenance of the landfill Tsvetaevsky" allowed to terminate landfilling completely. The biological waste treatment plants were extensively reconstructed. A hard work is in hand to implement measures aimed for protection of environment air due to which the emissions have reduced significantly. Automated control system allows to follow the emissions of ethylene, 1,2- dichloroethane in online mode; data is submitted to the Ministry of Environmental Resources of Republic of Bashkortostan every day.
A two-kilometer pipeline has connected the waste water treatment department of the lime kiln plant and the biological treatment plant. This ecological project solves two tasks: increases feed of waste water to treatment plant and reduces amount of wastes discharged into river Belaya. As a result the waste water goes through required additional post-cleaning and treatment plant is operating on its full capacity.
Objects of national importance commissioned by Bashkir Soda Company in 2014 first of all resolve a matter of environmental and industrial safety. So, for example the new air separation plant ASU-7000-20000 provides safety for both the company and the neighbors: nitrogen is necessary to create an explosion-proof media, and oxygen is used for manufacture of several products. Still Waste Liquid Filtration Plant will allow to process wastes into demanded products. Sterlitamak soda specialists were the first in Russia to master this kind of technology. This plant is installed only at Bashkir Soda Company. Expansion of calcium chloride production will make it possible to additionally process the still waste liquid with capacity of up to 1 million m3 per year and so much will be the waste discharge reduced.
In the past five years investments in ecological projects increased by 5 times and exceeded one and half billion rubles. In the following five years the enterprise plans to invest in ecology more than two billion rubles. Every of invest projects brings not only effective cost advantages but also tangible ecological impact.
Probably, in future, a waste-free chemical enterprise will be a reality. But already today Bashkir Soda Company is doing a major work in this regard. The new ecology projects of BSC can become the example of an industrial plant's care for the environment and the advanced experience – waste processing into demanded products – can be took on board.
It was not the first time when the company implemented a live ecology project, releasing starlet juveniles into the main waterway of Republic of Bashkortostan. From the very beginning of the project implementation the value remitted for purchase of fish amounted to more than 2 million rubles and the total number of juveniles of rare fish amounted to 70 thousand.
Bashkir Soda Company has proved that increase in output of marketable products and commissioning of new production plants can ensure a balance between industrial development and solving of ecology tasks, provided that the modern technologies are being used, where minimization of impact on environment is considered to be the fundamental goal.